It was London in the summertime, and the city was magical.

Every day was an adventure for the four of us and the weather was particularly enjoyable, neither too cool nor too warm, which meant we could slip into jackets and be comfortable. Some people don't like the grey skies over the city, but I don't feel that way. For me it was what I expected of London and I would have been disappointed with sunny days. Erik and Sally said the weather was much like San Francisco where they lived, and Nancy agreed.

It was honestly a time of magic, and there couldn't have been better companions. Although I was the traveling neophyte, both my son Erik and his wife Sally are experienced tourists -- but it was Nancy who was the continuous source of odd bits of information, providing unexpected delight to our trip. She seemed to know something about almost every place we visited. Our chorus became, "Ask Nancy!"

On the day before we were to come home, we four went to the British Museum in the morning and wandered the halls looking at the great stones that Lord Elgin had brought back from Egypt. By lunch time my feet were hurting, and when Nancy and I finally found the Rosetta Stone we decided to sit awhile, both of us close to one another. I turned and put my feet up on the bench and Nancy cradled my head in her lap. I could see she was also tired, and I asked how she was feeling. "I'm fine, and having a wonderful time." she replied. I nodded in agreement and squeezed her hand, wondering about the cancer in her body and remembering how it had taken Elizabeth from me a couple of years before.

Even so, It was a extraordinarily nice day and I was with Nancy. What could be better?

Later, outside the museum, we waited at the bus stop and talked about what to do for the rest of the day while Sally took more pictures of the streets. It turned out that we spent most of the afternoon riding atop a red double decker bus and enjoying one of the largest cities in the world, marveling at the sights. Although Nancy had been to London many times it was just my second trip, and for me most of the sights were familiar only because of the pictures one finds inside books on coffee tables. If I had a question about anything, I simply had to ask Nancy. She had seen most of the world, and she was a constant reader. "Who's statue is that?" I enquired. "That's Lord Nelson, an English Admiral who died at the battle of Trafalgar. This square is named after that battle."

In the late afternoon Erik and Sally said they wanted to ride the London Eye, a giant Ferris wheel that was part of the skyline beside the Thames, but it wasn't for Nancy and me, and neither of us wanted to go. Besides, I told them, it was time for an old man's nap. We agreed to meet for dinner at the Tandoori restaurant near our hotel, and after a round of hugs we parted for our separate ways. It's hell to get old, and we had done quite a bit that day, so I wanted to put my feet up and relax. But it really had been a good day.

Strange, but the long day was going to get even better.

The day had no end... no really, that's because it doesn't get dark until about ten on summer nights in London. The evenings are long and twilit; wonderful for strolling. About seven we left the hotel and walked over to the Paddington railroad station and found Erik waiting for us. He said Sally was taking photographs and would meet us at the restaurant which was a short block away. It was a pleasant walk in the twilight and when we found the Indian restaurant it was a dining delight. Personally, I prefer hamburger and vegetables, but once in awhile I can be surprised. During the meal Erik gave me a pewter piece for my collection of knights and dragons, and Sally had found a scarf for Nancy.

After dinner we strolled north, away from the hotel and down a broad street with very old trees, brick homes with front doors painted any color imaginable, and very small yards surrounded by tall iron fences. It was just like I wanted it be; just like I pictured London before I ever set eyes on it. As we walked, a light mist came down on us and I took out a small cap while Nancy pulled the hood of her jacket over her head. She smiled at Sally and twisted her new scarf about her neck. The weather wasn't going to bother us! We agreed it was warm enough and we were actually enjoying the misty rain.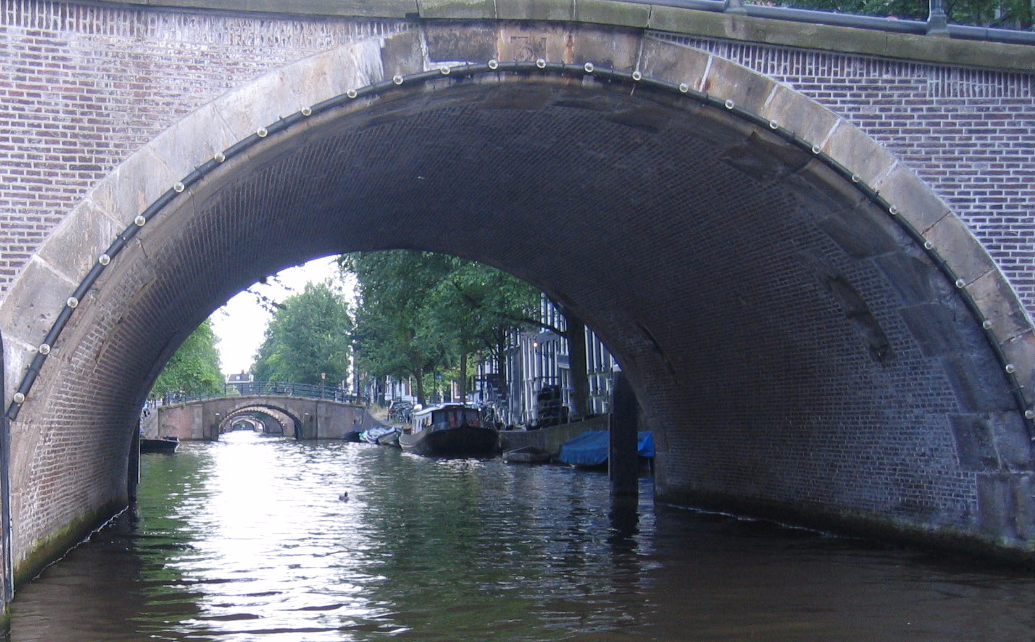 There are canals in the great city of London. Wide, deep and dark canals, with long barges on them. We found one. North of Paddington Station we came to a bridge and looked below, discovering stairs leading down to a broad quay where we could walk beside the water. The day was fading and lamps along the wharf were coming on, casting yellow circles of light on the stone walkway and onto the still water. Nancy and I stopped and leaned against a short wall, curious about the barge below us. It was loaded with bags of millet near the bow, and aft we could hear a woman's voice coming from a kitchen where light streamed from an open porthole. We laughed at how badly she was off-key. Life can be a wonderful experience when you are happy.

Erik and Sally stood under a lamp some distance away, waiting for us. As we started toward them, we saw them hug each other and turn to walk ahead of us. I took Nancy's hand and gave her kiss on the cheek, and for the first time since I had known her I said, "I love you, Nancy."

Do you know how difficult that is to say the first time you do it? But when it feels right it just has to come out, and after that it is very easy.

Ahead of Erik and Sally a man and woman came out of a pub and walked perhaps a couple of hundred feet along the stone quay, stopping at one of the docks leading to a dark barge below. As they unlocked the gate to go aboard, Erik and Sally spoke to them. When we got close, Erik said, "Hey Dad, I told them you were a visiting magician and he wants to see a trick. Got one?"

I found a quarter in my pocket and said, "Sorry, but I don't have anything to work with." I showed both of my hands empty and then slowly plucked the quarter out of the air. The woman said, "Oh!" and the man laughed as I handed the coin to the woman for inspection. She looked at the American quarter and to my surprise put it in her pocket with a "Thank you."

"Do you live aboard the barge?" Asked Erik.

"Yes, it's both our business and our home." Replied the man.

I looked at the sign atop the barge: "Big Yellow Bicycles For Rent" and noted more than a hundred yellow bicycles under a wet tarp on the deck. Nancy smiled and said to me, "Big D would be here at sunrise pounding on the door."

We talked with the couple for a few minutes and finally said goodnight to them, noticing that a light fog was forming about our feet. After that it was another hour of walking, holding hands, kicking the low, swirling fog and telling each other of things we had done and still hoped to do, speaking of both sad and glad remembrances. We spoke of both Elizabeth and Big Don Harwich.

The city was magical and the misty evening was enchanted for Nancy and me; it was also a point of no return for both of us. I had said I loved her, and she had accepted it.



-------------------------------------------- r.w. -----------------------------------------